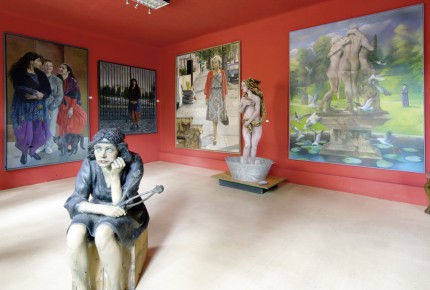 The Current Treadwell Gallery is situated in the former Courthouse and Prison in the Upper Austrian village of Aigen, close to the Czeck Republic(5 kms) and Germany(15 kms), and a forty five minute drive north of Linz.
The nine rooms of  the former courthouse display ever changing current works for sale, as well as works in the Collection, and Nick Treadwell organises occasional temporary exhibitions. The gallery has always been known for its sculpture, and the 700 square metre exhibition space features an impressive range of three dimensional work by long term gallery sculptors, Graham Ibbeson, the late Robert Knight, Mandy Havers, Malcolm Poynter, Saskia de Boer, Kevin Harrison, Michele Howarth, Dean Barrett and Matt Ensor, as well as paintings and drawings by Liz Atkin, Alun Jury, Bob Robinson, Jeramy Turner, Sara Rossberg, Mike Gorman and many others.   The five former prison cells are guest rooms and a guest bathroom,  as well as being art environments.  Nicholas lives in what was formerly the warder`s appartement.    Entrance is five Euros, including an entertaining and down to earth guided tour (normally by Nicholas himself) which takes forty five minutes to an hour.    School Groups are welcomed, for which the entrance is three Euros per pupil, and an adult group price can be arranged for more than 15 people.
Both the Prison and Courthouse are included in a visit, which can be at any time.   It is advisable to make an appointment to visit by telephoning the following local numbers :  Mob. – o664 3449543 or Land. –  07281 20000.
All the excellent photos of the current gallery interior are by the Aigen photographer, Christoph Stantejsky. Thank you, Christoph!

Share on Facebook