This book documents the provocative nature of the style and methods of the controversial gallerist and collector, Nicholas Treadwell. He tells of his fight against the attempted suppression and side-lining of his gallery by the art establishment, and follows him on a fifty-year creative journey.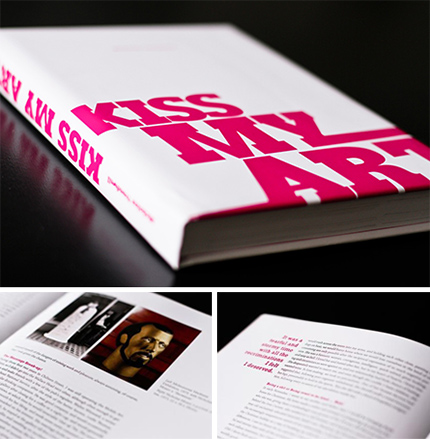 From his early European travels, his Mobile Art Galleries, his seminal London gallery, Superhumanism: his first people's art movement, his sixteen bedroom mansion and his 3.000 square metre Art Mill, to seeing him settled in his ultimate central European location, re-invented once again, and building up to his life's glorious finale in his Austrian prison, it's a roller-coaster ride all the way.
384 pages, over 600 pictures and a fantastice journey through Nick Treadwells art life.
KISS MY ART is available at Foyles, London and can be ordered from most bookshops world wide, through it's British distributor, if not in stock.

Some responses to Kiss My Art
"Yesterday the copies of Nick Treadwell's book "Kiss My Art" arrived. Wow, what a magnum opus!
 It is his very detailed life story but filled with reproductions of his most memorable art, photos with the artists, meticulous diary notes of locations, days, people (including you and I) and ends with his definition of Superhumanism as an art movement and how he has been ultimately disappointed at the forces 'controlling' the world of art and the consequent lack of creativity.
 It's funny how Nick's personality oozes from every word and the bits about Malcolm Poynter and me both end with "which was fair enough…". I think Nick must be 76 this year, so it's great that he finally managed to get this into print."
Bruce Collins, Newzealand
"Dear Nick
  I got your book "Kiss my art" and before leaving for Japan on wednesday I did a quick view of course. Amazing, interesting and so many reminders of former times and all the things which are hanging and standing in my appartement. Thank you so much for your lovely words at the front side. I appreciate it.
I hope your are fine and I sent you my best regards and hope really to have the possibility to visit you…. still in this life"
Thomas Berger, Switzerland
"Dear Nick
 Thank gratitude for your magnificent book and my participation in its content.
In summer we would visit you, what month would be good for you?
Have a Good luck !
Lots of love "
Ludmil Siskov, Austria
"Dear Nick
Thanks for a wonderful book, I will spend lots of nights reading it with pleasure, mingled with nostalgia!
Lots of love Liz"
Liz Atkin , England
"Thank you so much for the beautiful book KISS MY ART, it brings back a lot of beautiful memories indeed. You must be very proud of it, seeing your whole life work.
Thank you for the inscription and the nice story of the Marcus &
Marcus Gallery."
Marleen Marcus, NL

Share on Facebook
KISS MY ART Preview
Show larger version of preview
YES! I would like to order
KISS MY ART.