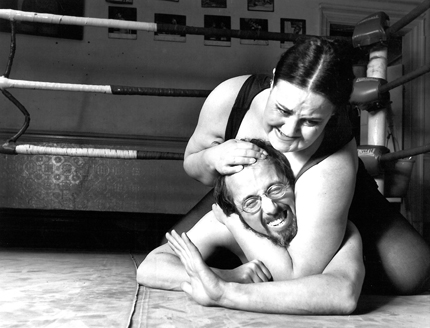 Sporting pictures exhibition 1976, Joanna Dickinson and Nicholas Treadwell at the Thomas A'Beckett Pub, Old Kent Road, London
After 48 years of deep involvement with art, artists and every aspect of creativity and those who make it happen, these are still the reasons I get up almost every morning full with enthusiasm for the possibilities of what might happen on that particular day. If it looks like being a quiet day, there are so many easily enthused creative friends with whom I can make contact for mutual inspiration, whether it be for art, film, theatre, a festival or whatever activity.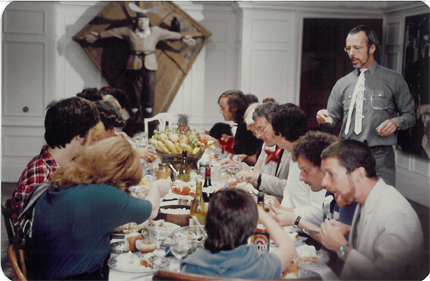 Artist's lunch at Denne Hill, 1982
I have had close and long relationships with many extraordinary artists, and it is they who have given me an insight into their inspiration, content and the technical quality of their work. What they don`t tell me, I am close enough to conclude for myself, and I have found my own way to explore and take in the history of the art in which I have become totally absorbed. What I haven`t learnt from artists, I have learnt instinctively, authentically gaining an all encompassing view of the art which has become my obsessive specialisation.  I love people and am fascinated by people in general, particularly those who, on the one hand, create the life inspired work I wish to exhibit, and, on the other hand, those who instinctively respond to the emotionally provocative art for which my gallery is famous.
Sculptures by Jenny Smith 1974 – Jane Goodbody, Nick Treadwell and Jan Jackson
Money has never been an issue. For most of my life I have been in some kind of financial crisis, and anyway, without money, it is necessary to find more creative ways to achieve aims. I know many people with a lot of money and they are rarely happier than me. A life, whether creative or not, needs pushing, guiding, controlling and developing, with passion and persistence towards the achievement of our ultimate goals.   The most important of my goals  is the permanent installation, in a historic building, of  my Collection of Contemporary Art about life and people.  I have put this Collection together with single minded persistence, with the intention that the works are as intriguing and informative to art historians and those interested in art, as they are influential and entertaining to the general public.  Furthermore that they give future generations an idea of life in our time.
Nick Treadwell with John Holmes`s 1969 painting, Entre`Acte.
As well as the above, I want to finish writing the story of my extremely full life, telling it how it was, and see it published. I also want to carry on entertaining people in what I believe to be my own unique way, until I die…. How many more years have I got? Who knows! Hopefully I have got enough time to achieve my fundamental goals, if not those ideas from yesterday or the day before…
Nicholas Treadwell,  April 2010.
Very Special thanks to Gerald Ornetzeder of Fredmanskys for his extreme help in putting this website together, and his exceptional patience in helping me to understand some of the fundamental basics of using it… nick t…

Share on Facebook