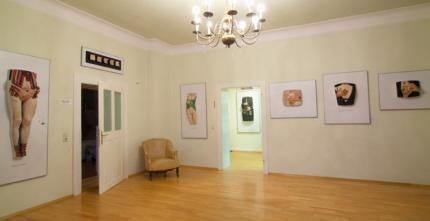 The Robert Knight Room in Aigen
The Treadwell Collection has more than 500 works, including sculpture, painting, drawings and original prints, dating from 1962 to the present.  The Collection depicts the broadest spectrum of aspects of the human condition, highlighting and recording the development of the Superhumanist Art Movement during this significant and intensive period of anxiety, conflict and social change.  Many of  works exploit humour and/or provocation in the reflection of their themes.  Furthermore, as well as it`s cultural values, the  Collection is both educational and entertaining.
The Collection includes an impressive body of work by the extraordinary Robert Knight (1920-1987) and the influential Malcolm Poynter (1946-), as well as fascinating early works by the artist partners, Tim Noble (1966-) and Sue Webster (1967-). The Collection is particularly notable for it`s remarkable range of drawings, including a fine pen and ink by the Austrian, Gottfried Helnwein (1948-).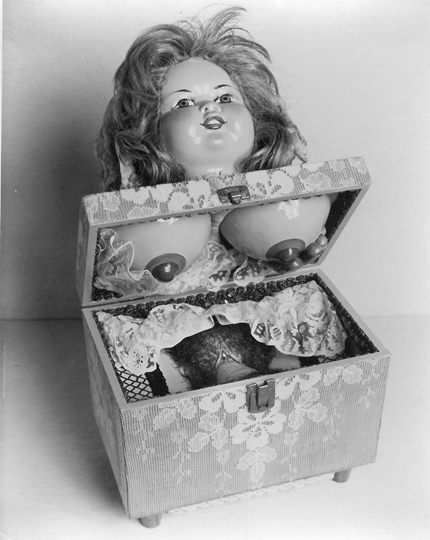 "Comfort and Joy Box" by Jo Bondy 1976
Aside from Superhumanism and works related to it, the Collection includes Pop Art by Jann Haworth (1943-) and Nick Monro (1936-) and from the very early days of the Treadwell Gallery(1962-64) works by the Indian Progressives, Francis Souza (1924-2002) and Sadanand Bakre (1920-2007), as well as Guyanan abstract expressionist, Aubrey Williams (1926-1990), Canadian Watercolour specialist, William Newcombe (1907-1969) and the figurative painters,  Pole, Marek Zulawski (1908-1985) and the Australian, Tony Underhill (1923-1977).
The excellent photos of the Collection have been taken by Armin Plankensteiner of Artware, Vienna. Thank you Raimund and Armin.

Share on Facebook