Archive
"Top of the World" by Kevin Harrison 2009 178x78x84cms Painted Wood/Steel


Share on Facebook
Opening at 1900 Uhr
on Thursday, February 2nd at Club Galerie der Ernst Koref Stiftung, Landstrasse, 31/1 stock, 4020 LINZ

Share on Facebook
"Bounty of the Implausible Vine" by Linda Downie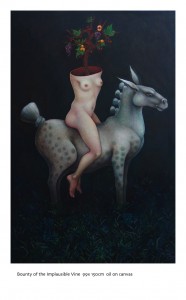 Share on Facebook
This Years Performance Party…"Paradise – A Return Trip"…will be from 1900 Hr on Saturday 20th August 2011. PLease Put it in your Diary now!?

Saturday 14th August 2010, from 1900 hr. The Pink Wizard of Oztria presents "A Fairytale of Magic in the Mühlviertel" –  Performance starts 2000 hr., including Large-scale Puppetry, Music, Song, Dance, some Fighting, as well as Food and Drink.   It should be Fun.       New Exhibitions in Gallery: Sculpture by Virgilius Moldovan,  "A Giant World" and Drawings by Nigel Burch "Little Lives".  Pink Wizard Poster Photo  by Lukas Hueller/Juliana Hauser.  Sculpture (2.6 metres high) by Virgilius Moldovan

Share on Facebook
Man and Horse by Ian Darragh(1959-2008), Etching 1984
Nick thanks Armin Plankensteiner for the great photography of the Collection, and Raymund Deininger of Artware, Vienna. for his collaboration in getting this done.
.

Share on Facebook